Climate Change Strategy & Action Plan
Overwhelming scientific evidence has prompted local and national governments to declare climate emergencies, and this urgency has been given extra impetus by emerging movements globally and locally - raising awareness of the catastrophic consequences of inaction. The Council declared our support for the Scottish Government and UK Parliaments' climate emergency statements in 2019 and earlier this year declared our support to several climate change declarations.
It is now important that this intent is turned into practice, and this Climate Change Strategy and Action Plan adopted by Perth & Kinross Council in December 2021 sets out our next steps, outlining the initial route map to take us to a net zero carbon and climate resilient Perth and Kinross. Our approach builds on the substantial work that the Council and its partners have already taken to address the climate challenge. However, we recognise the scale of this challenge if we are to achieve the significant societal and technological shifts to move us from a carbon-based economy to a carbon free and resilient future.
Listen to some spokespersons from Perth & Kinross Council, who are highlighting the key principles of our Climate Change Strategy and Action Plan. This video features the Leader of the Council Grant Laing, Thomas Glen - Chief Executive, Councillor Richard Watters, Councillor Liz Barrett, Councillor Alasdair Bailey, Councillor John Duff and Barbara Renton - Executive Director Communities.
Climate Legislation and Targets
The UK Climate Change Act 2008 sets the UK's approach to climate change and commits the UK Government to reach net zero greenhouse gases emissions by 2050. The Act also requires the UK government to produce a UK Climate Change Risk Assessment every five years to assess current and future risks and opportunities for the UK from climate change.
The Climate Change (Emissions Reduction Targets) (Scotland) Act 2019 has also given local authorities the duty to ensure their local authority areas decarbonise in line with the Scottish Government Target, are resilient to the impacts of climate change and promote sustainable development. Compliance with this means climate change should be considered at the heart of our Council decisions and activities.
Scotland has set more ambitious legislation in the Climate Change (Emissions Reduction Targets) (Scotland) Act 2019 which makes provisions about advice, plans and reports in relation to targets for the reduction of greenhouse gases emissions. This includes reaching net zero by 2045 and has set interim targets to reduce net emissions by at least 56% by 2020, 75% by 2030 and 90% by 2040 than the baseline year (1990) respectively.
Supporting the new targets set by the Act, the Scottish Government published their Climate Change Plan Update in 2020. "Securing a green recovery on a path to net zero: climate change plan 2018 – 2032 update" sets out the pathway for a green and just transition to net zero in achieving Scotland's climate change targets.
In addition to setting new emissions reduction targets, the Act also placed a duty on Scottish Ministers to act on climate change adaptation and prepare a programme of action. The second Scottish Climate Change Adaptation Programme (SCCAP2) was launched in 2019 and addresses the risks set out in the UK Climate Change Risk Assessment 2017 to help Scotland prepare for the impact of climate change. An annual report on SCCAP is also required under the provisions of the Act and the first progress report was published in 2020.
Perth & Kinross Council has also made voluntary commitments by signing up to the Race to Zero Campaign, the Covenant of Mayors, the Edinburgh Declaration on post-2020 global biodiversity framework, and the Glasgow Food and Climate Declaration
Emissions trends
Areawide emissions data is published annually by the UK Government's Department of Business, Energy and Industrial Strategy (BEIS). The most recently available emissions data is from 2019. This recorded gross emissions of 1,089 kilotonnes of carbon dioxide (kt CO2) for all activities in the Perth and Kinross area. However, this is offset by land use such as forestry, acting as a "carbon sink" which absorbs CO2. Therefore, the balanced net CO2 emissions by Perth and Kinross, contributing to climate change in 2019 were 953 kt CO2.
Emissions are declining across Perth and Kinross. The majority of emissions come from transport, domestic, industry, and land use. For transport emissions, businesses are contributing to both commuter and transient traffic. The public sector and commercial also contribute emissions at a lower amount.
Between 2018 and 2019 there was an annual reduction of 6.4%. This is better than the Scottish average of 3.2%, however it is below the annual 7.1% target needed in Perth and Kinross to meet the Scottish Government's 2030 target of 75% reduction against 1990 levels.
The Perth and Kinross per capita (per person) CO2 emissions have also been decreasing year on year and in 2019 were 6.3t CO2. This follows a trend across Scotland, although per capita emissions in Perth and Kinross remain 10% higher than the average across Scotland. This is in line with other more rural local authority areas, including Aberdeenshire (6.5 t) and Angus (5.9 t).
Per capita emissions 2005-2021 (BEIS, 2021)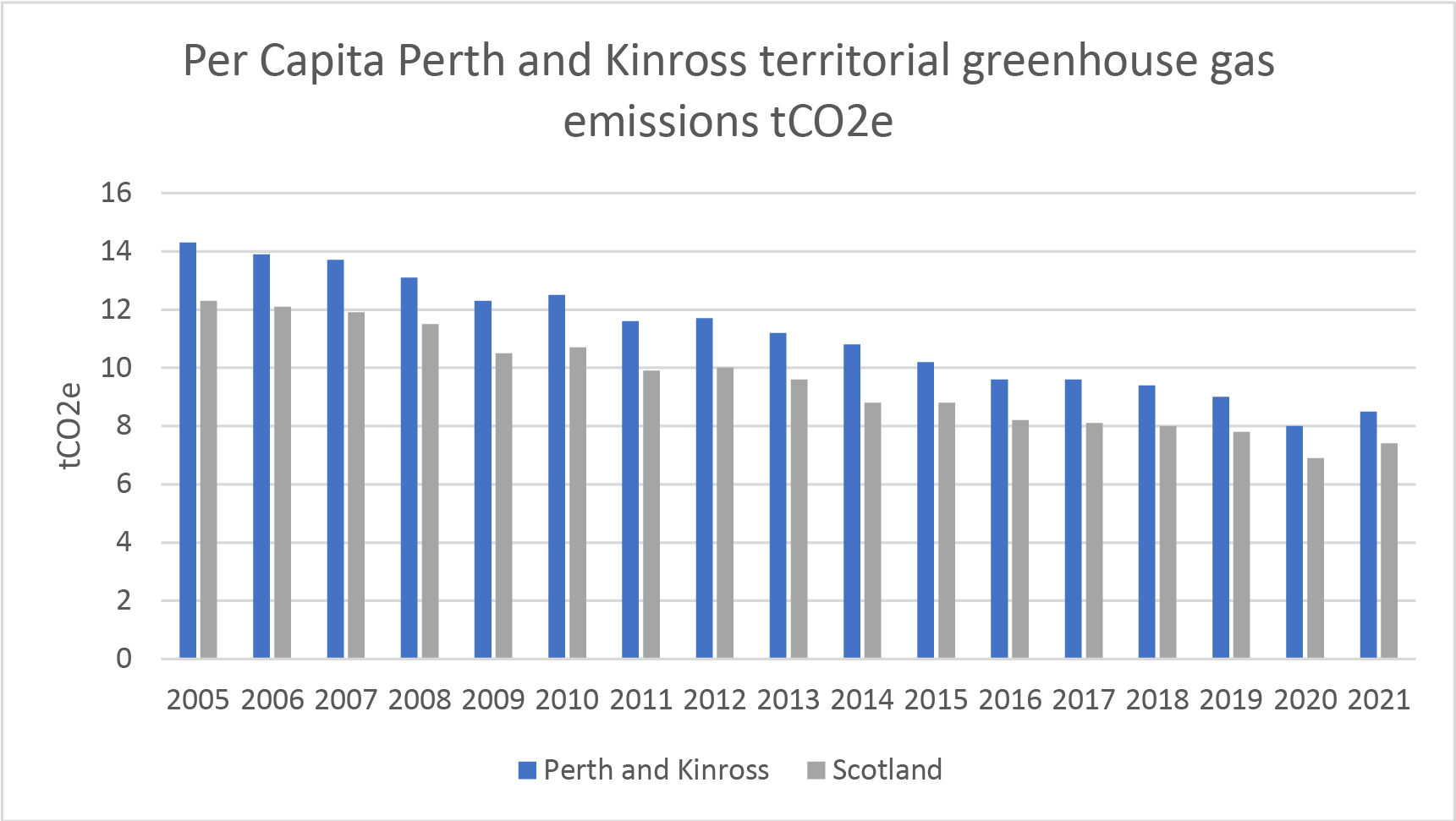 While more recent data is not yet available, lifestyle changes associated with Covid-19 are expected to have a significant impact on greenhouse gas emissions – some are positive and some negative. These include:
reduced transport emissions over 2020 and the first half of 2021 - In Perth vehicles levels are now up to pre-pandemic levels, while public transport levels are significantly reduced.
domestic energy – potential increase in emissions due to the increased electricity and heating requirements associated with spending more time at home.
non-domestic energy – potential increase in heating emissions associated with the increased need for ventilation.
waste – Changes in shopping patterns have led to an increase in household waste and recycling and recycling contamination rates have significantly risen.
The organisational emissions from Perth & Kinross Council's operations are produced annually as part of the Public Sector Report on Compliance with Climate Change Duties. The latest emissions figures (2020) showed a total combined Scope 1 and 2 emissions of 15.8kt CO2e. This showed a 25% reduction year on year in Scope 2 emissions (electricity), which is largely attributed to building closures associated with Covid-19. The Scope 1 emissions only had a small change (-4.9%) despite the closures, due to the increased heating and ventilation demands.
The Council's waste collection and management operations (Scope 3) account for 53% of emissions with the Council's operational footprint. Widening the carbon footprint to include other Scope 3 emissions categories is a future ambition.


Public Engagement
Public engagement took place from October 2020 through to January 2021, based on the draft Climate Emergency Report and Action Plan (2019) which consisted of an online survey split into five series of questionnaires and several thematic online sessions. The engagement was initially scheduled to take place in early 2020 but was delayed due to the pandemic outbreak and the Council's emergency response to it. The engagement survey received 480 responses while an approximate of 280 attendees took part to the online sessions. The feedback received throughout the engagement survey was considered in the development of the finalised Strategy and Action Plan.
Climate Change Strategy
Six overarching principles have been developed that will shape our long-term approach to Climate Change are:
Achieving Net Zero aligned with the Paris Agreement and the Scottish Government Targets, with the ambition of achieving them sooner
Building a more resilient Perth and Kinross
Ensuring climate action is fair and benefits all and we deliver a green recovery to Covid-19
Enhancing biodiversity to help avoid an ecological emergency
Engaging and empowering children and young people to take action on climate change
Empowering our communities and businesses to take climate action in line with the Perth and Kinross Offer
Perth & Kinross Council are currently working to meet the Scottish Government's 2045 Net Zero target. We have the ambition of achieving net zero sooner and will play our part in helping to achieve the required development of the future policy, resources, technological development, grid decarbonisation, business and individual behavioural change needed to achieve needed to accelerate this target.
Climate Action Plan
Climate change is a top priority for the Council. The Climate Action Plan has been developed to address the necessary action to make both Perth & Kinross Council Area and the Council itself net zero and climate resilient. Given the need for urgent action on climate change, the plan primarily focuses on the actions require in the near-term future, until 2024. Key strategic longer-term projects have been identified as well, to help provide clarity over future action required. The plan is not intended to be static, but ever evolving as policy develops.
The Climate Action Plan has been divided into eight thematic areas:
Monitoring and reporting
Measuring our progress towards net zero is an important element of the Climate Change Strategy and Action Plan. It is intended to bring an annual performance report to update the Council as well as the Perth and Kinross Climate Change Commission on progress made on the Strategy and Action Plan. The Council also publicly reports on its climate action progress annually via the Sustainable Scotland Network and CDP Cities and from 2023 biannually to the Covenant of Mayors.
Key Performance Indicators have been developed to enable monitoring of the Strategy and Climate Action Plans. Six high-level indicators have been developed (below) as well as theme specific performance indicators that are contained on the Action Plan pages for each theme.. It is intended to bring an annual performance report to update the Council on progress made on the Strategy and Action Plan.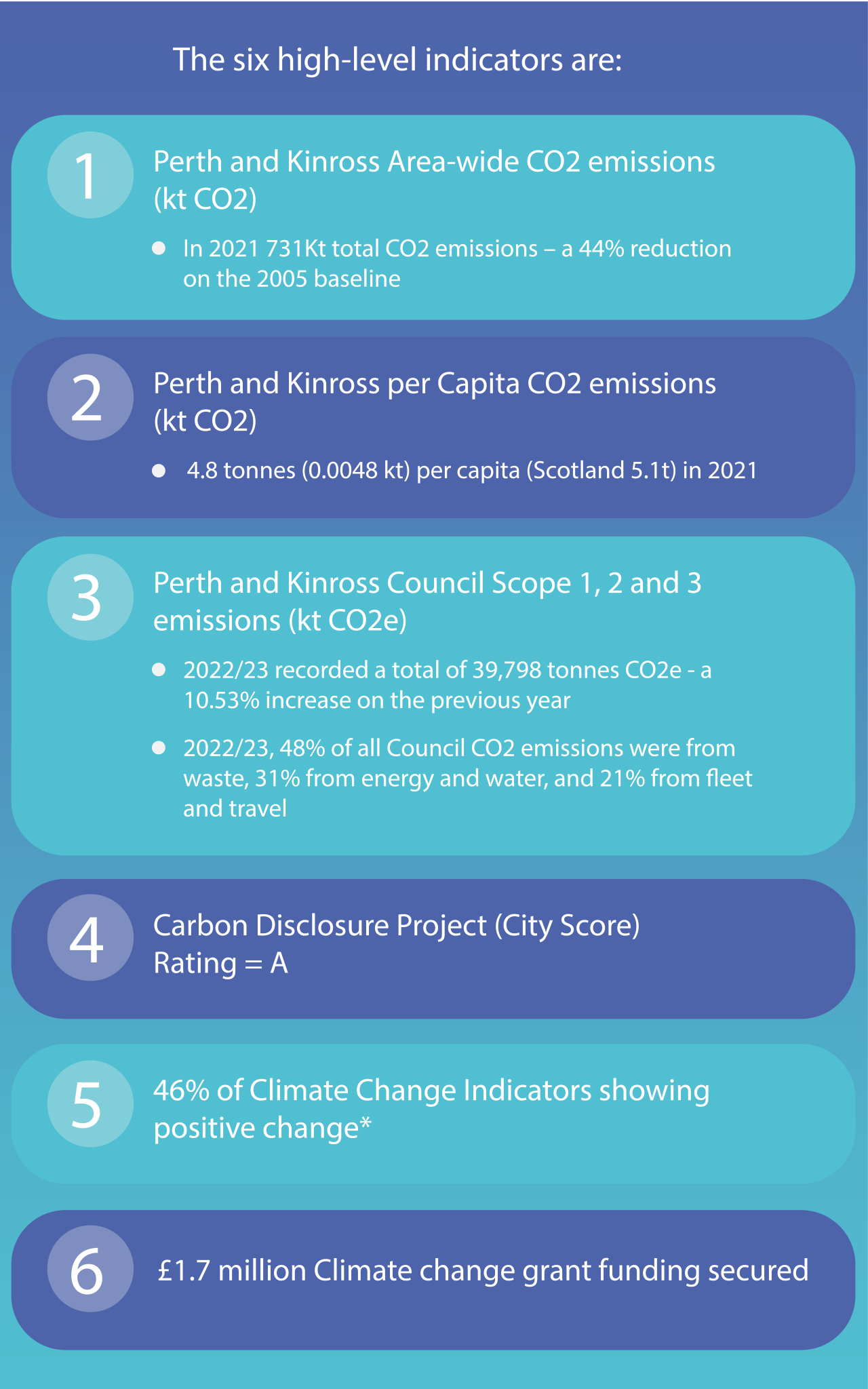 *Please note this figure does not refer to all KPIs that have been set to measure performance against climate targets. This is due to the fact that a number of KPIs have been set in the past two years, resulting to limited data availability.

Climate Change and Sustainability Committee
The Climate Change and Sustainability Committee has been created to drive forward Perth & Kinross Council's ambitious climate change strategy. The Committee will, subject to approval by the full Perth & Kinross Council, ensure the Council's plans, programmes and strategies deliver on its obligations and duties towards Climate Change, sustainable development and biodiversity.
The vice-convener of the Committee will be Liberal Democrat councillor Liz Barrett while members of the Perth and Kinross Climate Commission will be appointed as non-voting members.
The key responsibilities of the committee include:

Consider the Council's reporting requirements and make recommendations to services on where improvements can be made
Consider actions the Council can take to address the Climate Emergency, such as providing an advice service for residents and business and the promotion of community initiatives to tackle climate change.
Monitor the Council's Climate Action Plan to make sure its targets are being met.
Convener of the new committee Councillor Richard Watters said: "The climate and biodiversity emergencies are two of the most pressing and interrelated challenges facing us all. "We must act today to tackle climate change and I am proud to have been appointed Convener of the Climate Change and Sustainability Committee. "There is a huge amount of work to be done and the creation of this Committee demonstrates our commitment to taking a lead on the fight against climate change."
Councillor Watters added: "A lot of good work is already underway in Perth and Kinross, from the promotion of sustainable travel to the new charging hub at Broxden Park and Ride, but there can be no complacency. "Our role will be to make sure climate change and sustainability are considered as part of everything we do as a Council. "We'll also work hand in hand with the Perth and Kinross Climate Commission to support ways our residents and businesses can help in the fight against climate change."